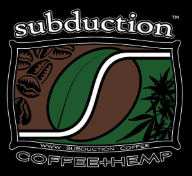 SUBDUCTION Coffee
http://subductioncoffee.com
food
Subduction Coffee+Hemp - Delicious coffees and CBD rich hemp brought together to harmoniously fill your cup with rich flavor and mellow goodness. We make the world's best hemp infused coffees using Organic and Fair Trade certified beans that are expertly small batch roasted.
---
Commission
We compensate at a rate of 20% per completed sale.
---
TERMS
As you send traffic to our website via your affiliate link, you will receive credit for each purchase you send our way. Your progress is reflected in real-time and can be tracked via your Subduction affiliate dashboard. Each link provided by us has an Affiliate ID attached. We can't track your sales and traffic without you posting the full URL, so please be sure to use your affiliate link. Our social sharing shortcuts have your affiliate link embedded in their posts. When a prospect visits our site from your affiliate link, we will be able to register their purchase (if/when they make one), and credit the sale to you. As your referrals generate sales, you will earn affiliate commissions. Commission checks are issued once a month 30 days after the sale. This is to make sure that the purchase is valid and not fraudulent. We can pay you via company check, or via PayPal, whichever you prefer.
Back